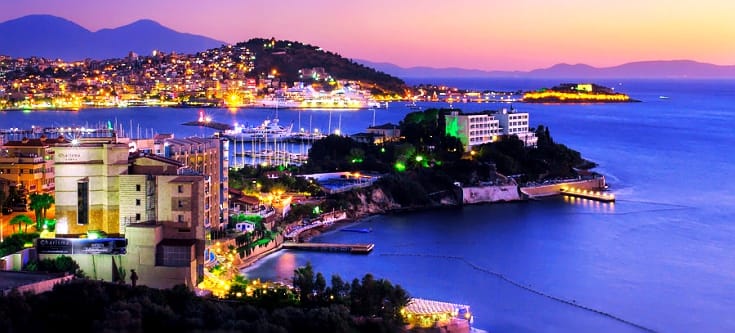 Kusadasi Car Rental
General Information About Kusadasi
Kuşadası is a district of Aydın province in the Aegean Region. Kuşadası, which has a population of around 150 thousand, is flooded by visitors during the summer months and reaches up to 2.5 million. This amazing district, which has a history and life of about 9,000 years, is among the most important holiday destinations of our country. Kuşadası first passed to Ionia, Lydia, Persians, Romans, Turks and Ottoman Empire after Byzantium and came to the present day. It has the Virgin Mary Church, which is a very important pilgrimage center for Christians and welcomes millions of visitors every year. It is next to the ancient city of Ephesus.

Besides its natural beauty and history of Kusadasi it is one of Turkey's largest port. Güvercinada Castle is one of the first visiting areas of the district. Güzelçamlı National Park is natural for nature lovers, with its clean air and natural life, which isolates its visitors from the chaos of the cities and causes the renewal of tradition. You can reach all these beauties as soon as possible by contacting our Kuşadası car rental company, which creates a wide travel route and is busy in the summer months. You can reach our district, which is 65 km away from Izmir airport, either from our Izmir Adnan Menderes car rental branches, from our head offices or from our bus station car rental point.
Kusadasi Car Rental
If you are going to spend your holiday in Kuşadası, you will definitely need a vehicle. As Herycar Rent A Car, we would like to meet this need with our affordable new model and well-maintained vehicle fleet. All you have to do is to select your vehicle and send it to us by phone or online by filling out our reservation form. Our experienced team will do the rest and guide you. Our company, which carries out an extremely meticulous work and can be with you in every problem, offers you the best Kusadasi car rental service with early booking opportunities. You can rest as much as you want in this popular holiday destination and step into new discoveries with the latest model vehicles that you can easily pick up from our offices or at the airport.