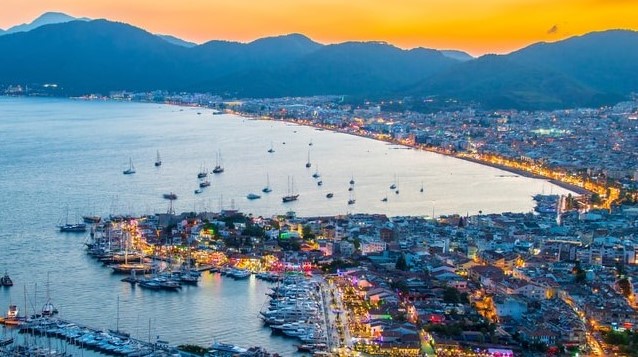 Marmaris Car Rental
Although Marmaris is a district of Muğla, it has surpassed Muğla by doubling its reputation with each passing year. The district, which is preferred especially because of its high levels of entertainment life and is over 95 thousand, is one of the places that can be visited and explored in 2 or 3 days with a strict planning. Since there are more than one place on your tour route, our recommendation for you will be to provide a vehicle suitable for your criteria from our Marmaris car rental company.


Places to visit in Marmaris
The district of Marmaris, which is so crowded that you will not fall down if you throw a needle in the summer months, is actually one of the places that can be traveled in all seasons of the year. If you are planning to travel to the district, which will open you up with its warm air, in the summer months, there are a few important details you need to know. The most important of these is to research your accommodation and Marmaris car rental companies and make a reservation as soon as possible. Your next job will be to create a trip list that will fully benefit you. Likewise, many local and foreign tourists who do not aim for a holiday crammed into hotel rooms prepare a list of places to visit in Marmaris just before they come to the district. If you prepare the plan before the holiday, your job will be very easy.
Now let's get to the tiny details of your tour. You should choose the Old Bazaar as your first route with your car that you have obtained from our Marmaris rental car company Herycar. After this place, where local products are exhibited and which takes you to a completely different age with its texture, you can go to Marmaris Castle, which is known to date from the Ionian and belongs to 1044 BC. Of course, Halıcı Ahmet Urkay Museum is one of the unforgettable places.
When you come to Marmaris, where you can see all shades of green and blue together, you cannot return without seeing the natural beauties, right? Once again, you can go to Turgut Waterfall and turquoise waters, which will cause you to say that you have bought our car from Marmaris company. After cooling down here, you will definitely want to go to the special beaches that host tens of thousands of local / foreign tourists every year. Especially, we know that you dream of reaching İçmeler Beach as soon as possible to get rid of the overwhelming weather of those summer months and the chaos, stress and anxiety of daily life that create a hump on your back. There is no need to say that you should go to Turunç, Kızkumu, Cleopatra, Uzunyalı, İncekum beaches and Cennet Island, Kumlubük, Çiftlik and Bördübet coves after you enjoy yourself here.