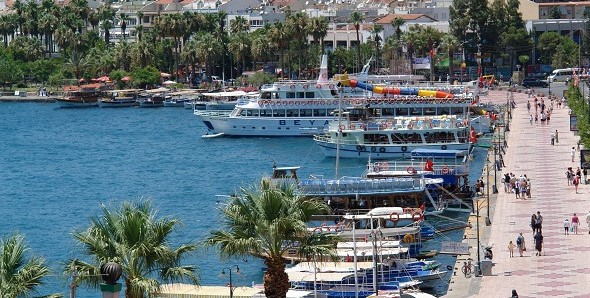 Muğla Dalaman Car Rental

Dalaman, which is 80 km away from Muğla, is one of the other 13 districts. Dalaman, one of the popular districts of Muğla, where holiday lovers flock in summer, is one of the places that will rest and refresh you with its natural beauties. Since Dalaman Airport is located in this district, as soon as you get off the plane, you can take your car from our Muğla Dalaman car rental company and head towards your route.


Places to visit in Dalaman, Mugla

Prepare yourself for a holiday with plenty of activities because you will overcome the bad effects of all the stress and chaos of the year in Dalaman. You should first leave your belongings in your accommodation area with your car that you have acquired through Muğla Dalaman car rental, and set off towards Hippokome Ancient City by just taking your camera with you. You are very lucky to set off by choosing a rental car in this ancient city, which is 30 km away from the district. This ancient city, which appears to be the "Horse City", is an incredible place carved into stones. Let's continue our tour by visiting these areas that have been left to us from previous ages as our cultural heritage. Now you can move on to another ancient city, Tlos Ancient City. This settlement, which belongs to the Lycians, is also engraved on the rocks like our previous ancient city. As the next ancient city, you can go to Lissai with its magnificent view and soul regenerating serenity. Although our cultural heritage has been damaged here, you can join nature walks, especially trekking, or blend your energy in nature with a bicycle tour.

Of course, you can enjoy the green and put your eyes on every shade of blue now. Then, we can say that the first place you will go to will be Sarıgerme Beach thanks to Muğla Dalaman rental car. After this area that will not tire you with its soft beach, you can also choose Sarçed Beach. Sarçed, one of our Blue Flag beaches, is also very close to the Sarigerme beach. After so many swimming and cultural tours, you can also do the spa activity, which is indispensable for health. You will not be able to get enough of swimming in the pools of Kapukargin Sulfur Spa, which is good for some skin diseases, especially psoriasis, and has benefits in muscle pain. After your tour of the district, you can visit the center of Muğla and start planning your next vacation by taking lots of nature photos. Before returning to your hometown, you can deliver your car either from Muğla Dalaman airport rental car Herycar Rent A Car points or from other points that you have agreed with our staff and set off for your home.