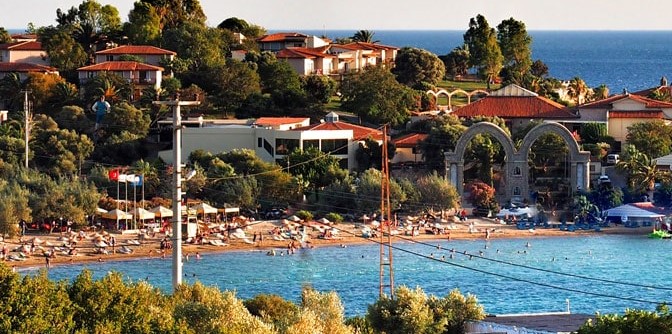 Izmir Seferihisar


Admired by many people, Izmir is one of the popular travel destinations of local and foreign tourists with both the city center and the private coastal towns. One of these places is İzmir Seferihisar district, which has just started to become popular. This charming district, which should be seen by those looking for a calm, calm and stress-free holiday, will enchant you and fall in love with itself with its unique dance of blue and green.


Izmir Seferihisar Rental Car


If we go on a short city tour for those who memorize the popular districts of Izmir like floods but hear about Seferihisar for the first time, the first thing that should be in your mind is to be in company with natural local tradesmen who have never lost their sincerity. Likewise, you will reset your own limitations in this district, and you will get rid of your identity until the end. Yes, let's go into the details of the tour without further ado. You decided to have a holiday and chose your route as Seferihisar. At this point, our Izmir-Seferihisar rental car company comes into play immediately. Whether you are at the bus station or the airport, you can now contact our company, which allows you to present your vehicle ready and set sail to your route.

Let's go through the possibilities in the modes of transportation you choose to come to the city. If you choose to travel by plane, you can turn your route to Seferihisar, which is 47 km away from Izmir, by taking your car immediately from our Izmir airport car rental points or if you are going to come by bus. While traveling at full speed to the district, you will be greeted by the scent of citrus fruits. You can start your tour without even emptying your luggage by passing to your accommodation point by filling your interior with this fragrance.


Places To Visit With Our Car Rental Company Izmir Seferihisar


When you come to this cute town where you will both listen and make new discoveries, you must have a camera with you, as the frames you can take will drag you to sign amazing photos. Let's come to our list of places to visit in Izmir Seferihisar without further ado. First, let's explore the historical textures and then leave ourselves to the cool waters enchanting with its blue. For this reason, our first sightseeing point will be the ancient city of Teos, and you will have to reach this point with your car bought from our Izmir Seferihisar car rental company with its history dating back to 1000 BC, because the distance from the district is 5 km. When you discover this place and remember once again what kind of cultural heritage we have, your next route should be Sığacık Castle. Do not neglect to visit the local markets in this area, because you will be able to see the famous herbs, vegetables and fruits of the Aegean together.

In Sığacık, which is known as Seferihisar, be sure to stop by Akkum Beach. We have no doubt that you will spend hours on this beach where you can relieve all the tiredness of the day and jump from the muggy heat to the cool waters. You can choose the places in the district center for dinner and rest. We are sure that you will not hesitate to try the local flavors, but with a little reminder, do not ignore the Aegean herbs and appetizers. When your holiday ends, you can also leave your car to the point you have agreed with our cheap car rental Izmir company.