Seferihisar Streets That Stop Time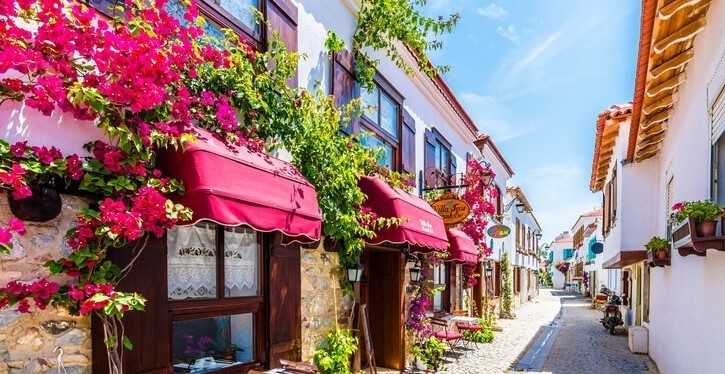 Seferihisar Streets That Stop Time

Undoubtedly, Seferihisar is one of the beautiful places that Izmir lovers have not yet discovered. We can say that this place, which relaxes your soul and destroys all your nerves and stress, is the town where time stops. As soon as you step into its streets, you feel yourself in a painting of nature. How would you like to discover Seferihisar, which will warm you with its beautiful sea, lush trees and colorful flowers?

You know the dream we dream about when we think of "I'm going to leave everything and run away to a quiet Aegean town", that's definitely Seferihisar. You should see the district, which is not yet reinforced concrete, with its unspoiled sincerity, warm people and beautiful nature. You can easily reach here thanks to the Seferihisar car rental service you can get from Izmir airport. Now, if you wish, let's get to know this unforgettable town closely.


How to go to Izmir Seferihisar?

A high proportion of Izmir visitors prefer air transportation. Adnan Menderes Airport, which is located between Gaziemir and Menderes districts, can reach the occupancy rate especially in the spring and summer months. If you are going to this city for your exploration of Seferihisar, you should first arrange your flight ticket and accommodation. Adnan Menderes Airport rent a car , where you can land in a short time by plane, is 55 km from Seferihisar. If you get a rental car from our Seferihisar car rental company before your travel, you can go this way in a very short time. There are also public transportation vehicles going to this district. But you can understand that the road takes too long due to the distance. Moreover, in the heat of Izmir, that public transport journey will not be taken at all.


Places to Visit in Izmir Seferihisar

When you reach Seferihisar with the rental car you bought from Izmir Adnan Menderes Airport, a small town atmosphere will welcome you first. At the first entrance, the thought of "I wonder if I will get bored" may occur, but as soon as you dive into the streets of the district, this thought will disappear. Likewise, you have the chance to explore every point since you have a vehicle under you to buy from our Seferihisar car rental company. Although we call this district a hidden paradise, its popularity has increased in recent years. Therefore, be prepared to see tourists who have a holiday understanding of peace and quiet here.

You can dedicate your first route to discovering historical textures in the district, which will enchant you with its colorful flowers and citrus-scented streets. Likewise, Teos Ancient City, which is one of the important places in terms of our history, is located here. After finishing your ancient city tour, you should also see the Temple of Dionysus and Sığacık Castle. Speaking of Sığacık, this quiet neighborhood, which is one of the most important points of the district, is a place where you can take unique photographs. Colorful flowers and fragrant boutique cafes adorn its narrow streets. Don't forget to drink a foamy coffee in these streets where you will discover hand in hand with your loved one.


What to Eat in Izmir Seferihisar?

While Izmir is famous for its natural beauties, sea, women and sea, it is also known for its unique flavors. If you do not come here and taste the important tastes of the city, you will not be considered to have completed your Izmir tour. Therefore, immediately immerse yourself in greenery and local flavors without thinking about what to eat in Seferihisar. As you know, there are thousands of herbs in İzmir, the pearl of the Aegean. You may not find appetizers made from these in other cities. While being enchanted by the scent of citrus fruits, taste the mantı with chickpeas without eating the tangerine dessert. Enjoy the sunset while eating your gummy ice cream on the beach. In the coming days, turn your route to Akkum Beach with the car you bought from our Seferihisar car rental company. This beach is famous for its clear water and lush green areas. Especially if you like to swim, we can guarantee that you will never want to leave here.