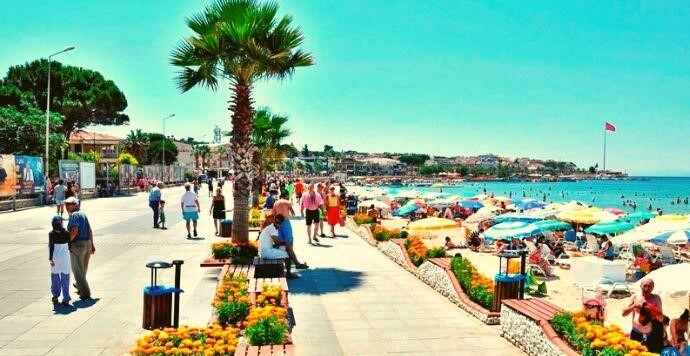 Didim Car Rental
Didim, which is connected to Aydın province, is one of Turkey's most distinguished holiday resorts. With its bays, blue flag sea, calm and peaceful structure and cultural texture, it has become a frequent destination for domestic and foreign tourists every year. When you go to the center of Didim, you will see the blue flag Altinkum Beach, which is among the most preferred beaches by tourists with its shallow and clearness.

There are cafes, restaurants and souvenir shops on the walking path here. You can also join boat tours in order to evaluate your spare time and make your holiday more enjoyable. Didyma Ancient City, which is a few kilometers away from the center of Didim and hosts the Temple of Apollo, is known as the center of prophecy of ancient times and is an old settlement that has managed to preserve its beauty until today with its columns still standing. Didim car rental Priene Ancient City, Bafa Lake and Heraklia Ancient City, Magnesia Ancient City, Euromos Ancient City in Didim are among other important places of our cultural heritage
How to go to Didim?
Transportation to Didim, the district of Aydın, is quite comfortable both by road and by air. You can go from İzmir, Muğla and Aydın by road in a short time, or if you want to reach by air, the distance to Milas-Bodrum Airport is 82 kilometers. You can reach in minutes.
How to Rent a Car in Didim?

Didim car rental companies consist of highly developed companies that can offer the best service. Our Herycar Rent A Car company, where you can easily provide rental cars, serves you, our valuable domestic and foreign tourists, 24/7. To obtain any rental car from our company, you can follow these steps:

Reaching the customer service team,

To learn the most suitable vehicle models for your wishes and expectations,

To determine the period you want to rent,

Getting the best and most affordable Didim car rental service by making an early reservation,

When the rental time comes, our professional field teams will deliver your rental car to you from the airport or popular points of the city. When the rental period is over, vehicle deliveries can be made from the points you prefer.