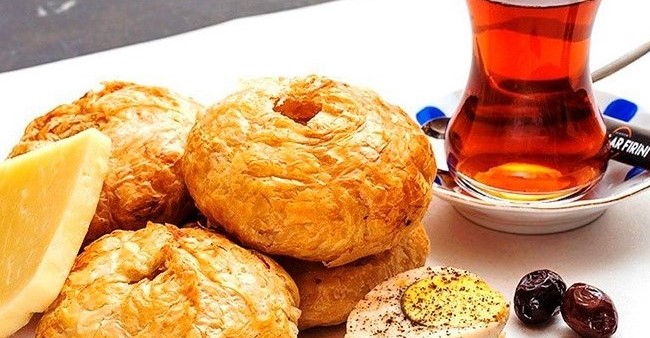 Local Tastes of Izmir
Being one of our provinces that stand out with the naivety, modernity and kindness of its people, İzmir is unique with its deep-rooted historical past, natural beauties and of course local flavors. Our city, which welcomes both domestic and foreign visitors in all four seasons of the year, promises you an adventurous holiday with its wide travel route and will cheer your stomach thanks to the local flavors of Izmir. İzmir, which is the most loved and worth living in the Aegean Region, which has hosted Bosnians and Jews, especially Albania and Greeks throughout history, continues to grow by increasing its population every year. You can easily visit the city, which doubles its density in spring and summer, thanks to our rental car companies, especially due to its location on the seafront and an international airport. Let's list the prominent flavors in the city where so many different cultures live and left not only historical textures but also local flavors as a legacy.
1. Boyoz

This magnificent taste, which should definitely take the first place, is just one of the pastries that Izmirians will never get tired of eating at breakfast. It is served with boiled eggs with many varieties such as plain, chocolate, tahini, sweet and sour, eggplant, artichoke and cheese, which are unique to Izmir. Turn your route to Alsancak with the vehicle you bought from our Izmir rental car company to taste this flavor, which is well known to every Izmir lover. Here, Dostlar Bakery, which has queues in front of you, will be waiting for you with its dozens of boyoz.

2.Gevrek
Gevrek, which is always the subject of discussion with its name, is actually a kind of bagel. Likewise, you can find these crispy crispy cereals with lots of sesame seeds, which are not soft like normal bagels and become crispy only with the cooking techniques unique to this city, but we are sure that you will like to feed seagulls while crossing the ferry.
3.Cumru

You may have seen a food called "İzmir dovetail" sold in many different cities, but isn't it the best to eat this delicious snack in your hometown? The sandwich, where cheese, tomatoes and peppers placed in a special bread made with sesame, cooked on charcoal fire or served hot, should definitely be eaten in Çeşme, the famous district of Izmir. Thanks to Izmir car rental companies, it will be much easier to reach this district, which is 90 km away from the center and makes its visitors fall in love with it.

4. Stuffed Pumpkin Flowers
Inherited from the Cretan cuisine as a cultural flavor to the people of Izmir, this special stuffed stuffing is one of the foods that will bite your fingers with its production process and taste. Thousands of people are astonished as "what is that?" As the name suggests, the pumpkin is made with the flower left at the tip of the vegetable during the growth phase. The people of Izmir, who collect these flowers that fade in daylight and do not allow them to fill, before dawn, put a special stuffing mortar into it and get the deliciously scented stuffed pumpkin flower. In order to taste many cultural tastes like this, you can go to the restaurants where Cretan dishes are exhibited, without a doubt, with the vehicle you get from our Izmir Rentacar company.
5. Stuffed Mushrooms
Although it is possible to eat in all our coastal cities, stuffed Mussels, which is very special for the people of Izmir, is one of the snacks that people of all ages form long queues in front of people from 7 to 70. These stuffed mussels are prepared and sold in almost every district of Izmir in different sizes. However, if you want to eat mussels with its view as well as its unique taste and cleanliness, what you need to do immediately is to turn your route to İnciraltı with the vehicle you bought from our rental car company in Izmir. We recommend you to taste these mussels, which you can consume on the bottom of the sea either with alcohol or simply, with the sound of waves on the rocks.
6.Enginar Stuffed

Even though there are people who haven't heard of it before, artichoke is one of the indispensable vegetables for İzmir. Especially, a stuffed artichoke made to make your mouth watery with its flavor can make you fall in love with it. If you are one of those who say, "These Izmir residents also eat whatever they find," be sure to taste the stuffed artichoke, which you can easily find in every restaurant you visit as soon as you step into the city. If you are going to eat it for the first time, you can get information about how it is eaten, and you can get detailed information about the Artichoke Festival held in Urla. If your visit to the city coincides in April, you should definitely stop by Urla by taking your car from Adnan Menderes airport rent a car points by a road of 58 km. Maybe you want to taste the wines here or consider buying them as gifts for your loved ones.

7.Sevketi Orchard Grass
It would not be wrong to say that the people of Izmir are a weed man. These friendly people, who make the food and appetizers of dozens of different herbs, are followers of many useful herbs in nature. From breakfast to evening entertainment appetizers, one of the favorite dishes of Izmir residents who use herbs that you have never seen before, you have not heard of them and that you will taste for the first time, is the grape grass. This food, which is also referred to as akkız in some districts, is actually a thorny plant that is difficult to clean. You can easily find Şevketi garden, which is transformed into food by boiling or roasting method and prepared with plenty of olive oil, in any restaurant and restaurant you wish.
8.Cooking

You will come across with a different name, the scream dish, which is only one of the local delicacies unique to Izmir Bergama. You can reach Bergama, which is located at a distance of about 1 hour 39 minutes from the city bus station and has dozens of historical buildings with its deep-rooted history, by getting support from our car rental Izmir company. There are restaurants in this district where you can see special and delicious food side by side. Attracting attention with its naturalness and simplicity, the district is a popular dish made with eggplant, pepper and tomato, and is consumed with village yoghurt with lots of garlic.

9.Gopez with Yogurt

Most of us would never consume yogurt with fish, right? How would you like to try these two flavors that are never wanted to consume side by side with the perception that it causes poisoning in Old Foça? This flavor, which is prepared using gopez fish or preferred by mug fish, is actually an appetizer and you will definitely encounter it in every fish restaurant. Yogurt is poured over the fried fish, and it is decorated with fried chili peppers and walnuts. Thanks to our Izmir airport rental car company, you can go to Eski Foça to taste this flavor in 1 hour and 21 minutes.

10. Sea Beans
When İzmir is mentioned, fish comes to mind, and when it comes to fish, appetizers made of herbs that count the benefits come to mind. Here, another local flavor that is at the forefront of these appetizers and is considered indispensable for the evening tables of Izmir residents is undoubtedly the sea bean. Since it grows close to the seaside, this wonderful herb appetizer, which you must taste in the coastal towns of Izmir, is served with plenty of sour and garlic and is often preferred as a light snack in the sweltering summer heat.
11.Potato with Chickpeas
Do not say "Börek is the same pastry everywhere" because you haven't tasted the chickpea pastry that is unique to Bergama yet. Likewise, this special and local flavor, which many people lament about whether chickpeas can be so delicious, is preferred in many places from women's five teas to breakfast tables. It is up to the imagination of the people who make it to shape the pastries made with hand-rolled doughs and boiled chickpeas.
12. Bomb

Bomba is one of the desserts you come across in almost every Izmir bakery. We seem to hear you say "what a funny name" but the dessert really deserves its name because you have to give a reward to those who can eat the second and even the third. The real effect of the bomb, which is made as a cookie and amazes with its thin dough, comes from the abundant amount of chocolate in it. We recommend you to try this local flavor, which connects chocolate lovers with its dessert that flows as soon as it cuts into two, in the famous patisseries located in Alsancak. In this regard, you can also use your Izmir rent a car vehicle, which you have cleaned from our Herycar Rent A Car company, for transportation.